"Dune" Movie Review
Is it worth 3 hours of your life?
Ever since the announcement of its arrival, "Dune" has been a movie audiences have been waiting for. With actors Timothée Chalamet, Zendaya, Jason Mamoa, and Rebecca Ferguson, and music by Hans Zimmer, people all over the internet have been raving about this movie. But the question you have to ask yourself is, Is this movie really worth three hours of my life?
"Dune" was released  Oct. 22 in theaters, and on Oct. 21 on HBO Max and has already sparked opinions that are all vastly different. From what I have seen, most people either fell in love with the movie, absolutely hated everything about it, or they just did not understand. If we take a look at the reviews, it received 84 percent Rotten Tomatoes. It also received high ratings on Internet Movie Database (IMDb), receiving an 8.3/10; similar to Rotten Tomatoes. Overall, if we are just looking at the online ratings and reviews, it was generally a good movie. It is not the best movie ever, but who can really beat "Black Panther" (96 percent) or "Knives Out"(97 percent). But a good rating does not necessarily mean that it is worth watching for three hours. Especially when you could be spending those three hours "studying" instead.
From this point on, I would like to give a spoiler warning, however, I will try to keep the spoilers light and only use them when necessary. 
The first thing we learn about the movie is that this is part one of the story, so you know from the start that the movie is going to end with you having questions. At the beginning of the movie, we are introduced to a house or faction of people called the Fremen and their backstory and connection to the main plot with the other characters. Then we meet the main character, Paul Atreides (Timothée Chalamet), and his family; mother Lady Jessica (Rebecca Ferguson) and father Leto Atreides I (Oscar Issac). 
The beginning, while a bit confusing and busy, was effective and did a good job of the initial development of the characters. We discover at the beginning that Paul is born with an unusual gift, though he hasn't yet had the opportunity to mature those powers. Then we learn more about what kind of role Paul plays in his world. The movie shows some great world-building. I think that world-building is very important for all fantasy movies, but especially for science fiction movies. It is a whole different universe and the producers and writers that were basing the movie off the book did a good job of using Frank Herbert's descriptions of the world and transferring that to the big screen. As an avid reader, I am sad to say that I have yet to read the entirety of the series, but I have read the first part. Going back to the characters, I think that the producers had the same effect with each character as well. 
As we learn more about each character's past and personal lives, the plot thickens. We meet Paul's friend, Duncan Idaho (Jason Mamoa) and with that interaction, we get to learn more information about Paul's gifts. The scene gives us very direct foreshadowing for what's to come, but the clips that we see still leave us with questions. Lady Jessica's past is addressed here too. We learn more about who her people are, and without showing it we see and understand how she grew up. Both the development of the characters' past and this foreshadowing are signs of a good, well-written, and thorough movie. 
I would also like to talk about the visual effects. Other than the soundtrack, I would say it was one of the best parts of the movie. Between the different settings we were given and all of the different scenes where they were flying or walking. I thought that the effects were quite nice. I also appreciated the effects of the force fields that they had. It was obvious that they were meant to be force fields and also provided some good world-building; we are so far into the future that this kind of technology exists and is so well-developed and realistic.
I did think that the movie had areas that could have been improved. One of my biggest issues with the movie is simple. Zendaya (Chani), from all of the trailers that were released, seemed to have an important and big role in the movie. She is on the cast list next to Chalamet, which indicates that she is important in the movie, maybe one of the main characters. But this just isn't true. 
Zendaya got a total of seven minutes of screentime. Most of her screen time was short clips of her walking in sand and turning around. As we neared the end, we saw longer and longer clips of her doing various things. Finally, in the last 10 minutes or so, we meet her character, but still, learn virtually nothing about her. The clips of her that we see throughout the movie are supposed to be from the second part, which has yet to be confirmed. As much as I love Chalamet and all of the other actors, I was disappointed and let down by the fact that Zendaya wasn't given more screen time.
Another qualm I had with the movie was the audio. I love the soundtrack and how it effortlessly exemplifies the overall tone of the movie and provides meaning to the different scenes. It does an astounding job imposing emotions the way movie soundtracks can evoke emotions out of you. Hans Zimmer is a spectacular composer and his music is good, however when the music prevents me from hearing the dialogue when I am unable to turn on subtitles. It is a bit frustrating. I watched it during the movie and at some parts was unable to hear what was being said, which caused me to be lost at times. Maybe it would have been better if I watched it from home and could turn on subtitles, but without them, I felt lost. 
"Dune" isn't the kind of movie that if you stepped out to go to the bathroom, you would not understand the whole thing, but it still wouldn't be that great. So constantly not being able to hear the characters talking didn't make understanding the plot easier. 
The last problem I had was the length. With a run time of two hours and 35 minutes, and 20-25 minute commercials beforehand, it was a very long movie. And a lot can happen in that period of time. So much that sometimes you forget minor details that they tried to bring back at the end. I also started watching the movie at 10:30 p.m. and ended at 1:30 a.m., so maybe that was the issue, but I still felt like it was an exceedingly long movie. 
Whether or not you think the movie was good enough to watch for three hours is your decision. Personally, I thought the movie was satisfactory. The visual effects, the cast, and the soundtrack all were definitely good quality and the cast was well picked. With all that being said, do I think that it was worth watching until 1:30 a.m.? No. 
Your donation will support the student journalists of Ankeny High School. Your contribution will allow us to purchase equipment and cover our annual website hosting costs.
About the Writer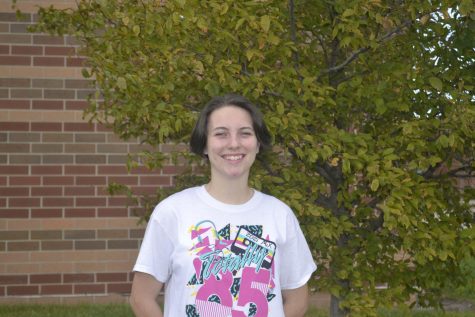 Jemma Bullock, Staff Reporter; Movie Reviewer
(she/hers/they/them) Jemma Bullock is a junior at Ankeny High. Her birthday is Feb 13, 2005. They are a Social Media Manager and a Talon staff reporter....