All hands on deck
A look behind the making of the fall play The Alibis
Entering Mollie Jo Blahunka's room, head of Ankeny's drama department and English teacher, it is filled with laughter and chatter from the crew and cast members of the fall play, The Alibis. Some of the cast are conversing and getting ready for rehearsal, others are having an early dinner, while others are doing homework as they wait for run-throughs and rehearsals to start for the fall play. With hard work going into every detail of the play, the crew and cast have formed memories and bonds to last a lifetime.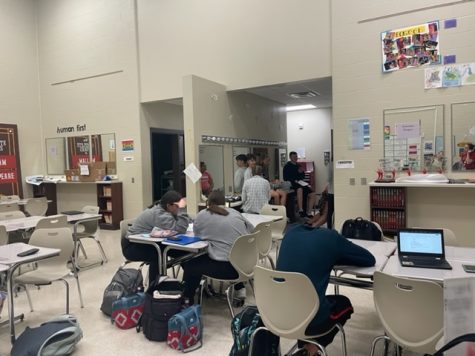 "We have such a phenomenal cast and crew they are all so eager to work and help, really everyone wants this play to be great so seeing the group vision come together to put this play on has been very wonderful," Blahunka said. "There are no weak links in this cast and crew; everyone is just a star player." 
The crew and cast members have been working since September to put together the fall play The Alibis. The Alibis had its opening show Friday, Nov. 4. There are two additional showings Saturday, Nov. 5 at 7:00 p.m. and Sunday, Nov. 6 at 2:00 p.m.
Their many hours of collectively working together to make this script come to life have all come together for fellow Hawks, friends, families, and parents to enjoy.
"A typical day for me in my tech week experience [is]– I show up and I eat dinner because I know I won't have that much time later. So I eat an early dinner and then I get all into hair and makeup," junior Jenna Freeseman, the actor for Detective Casey Neptune said. "I fix my mic in my hair and have some help from some of my friends with that. I then get into my costume and then do run-throughs. Every now and then Ms. Blahunka will send us into the hallway if a scene is having some trouble. We then work on the script and we work on memorizing and making sure the flow works so it's easily put on the stage."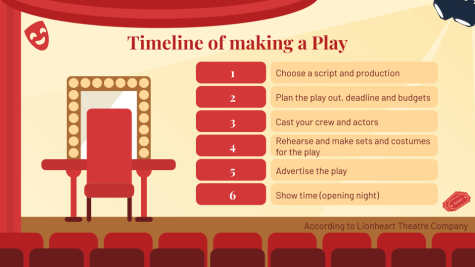 The crew spends lots of time making the play run smoothly. The whole crew works collectively to help bring this play to life.
Some are hemming costumes, doing the makeup, memorizing lines, and others are making the set and managing lights. As you walk through the door to access the auditorium there is a prop table, where all props are labeled and placed in their own place. They are easy to reach when the cast is performing.
Different colored tape pieces are also placed throughout the whole stage by the crew so that the crew when it s time for showtime knows where all set pieces are located.
Junior and crew member Ellen Wieczorek says that all the smallest details are taken into account when making the play so that each character has what they need. After rehearsal and take notes on what needs to be improved for the next rehearsal until it all comes together that one weekend. 
"It's been really fun! I love working with the other crew heads and all of the other people. One of my favorite memories is sitting in Mrs. Blahunka's room listening to music and hemming all the costumes and just laughing and talking," E. Wieczorek said.  "A lot goes on behind the scenes that people don't realize, it's a lot of hard work but also lots of fun."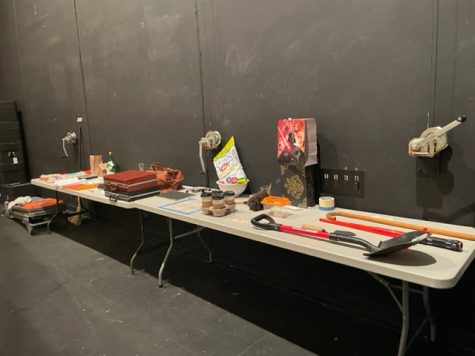 Unity between the crew and cast has formed with all of their hard work to make this production of 8 scenes.
Junior and backstage crew member Sarah Wiezorek says the cast is constantly running lines and working very hard on their character development. And the crew is working hard multiple hours after school on props, makeup, costumes, and set pieces.
"In the play, we were all a big family, everyone's there to help one another. You build strong relationships," Andre Valdez said, a senior playing Peyton, a father and husband. "We are all friends, and we help each other with homework and friends, family, and other problems outside of rehearsal. We're all here for one goal, which we do together." 
The multitalented people coming together have made this play all come together for the audience to enjoy. Blahunka says that she always tells her students that theater is a team sport. This is the motto of the Ankeny High School drama department because everyone needs to work together knowing that it is not going to happen unless all hands are on deck. 
"The most important part for any play to happen is having good chemistry and relationships between everyone throughout the cast and crew," Freeseman said. "Because when you're all working together and you feel good about working together, you're going to put on a good show and it's going to come out that much better." 
Their commutative work makes this new comedic production come to life. 
"The fact that we are doing all eight of the scenes is really new," Blahunka said. "This is a new script and a part of the licensing is that you can choose the eight you want to do, and in each production that I have seen they have done up to six of some kind of mix of them, but we are doing all eight which is really cool and it definitely adds something to the story in the way that all of the stories kind of create one thorough line between all of the different stories."
Each scene in this murder-mystery comedy is about one of the suspects. Each actor has thorough character development to the point that every character is really enjoyable to watch says S. Wieczorek. Suspects range from angry chefs, to teen detectives, and even vengeful divas. 
"The play is about a group of people who are invited into a rich millionaire's house for his birthday party, but he is found dead and a detective is called on to figure out who committed the murder," S. Wieczorek said. "But each of the suspects doesn't want to say their alibis because they think what they were doing was much worse than the murder. So it's about the story of the suspects. It's a murder mystery."
The play is a murder mystery with twists and comedy for the audience to sit back and have a good time with. There are references, jokes, and humor for everyone whether that's a seven-year-old kid or my 80-year-old grandpa, Freeseman says. 
"It's very funny and twisted," Valdez said. "The amount of comedy in the show will be surprising [for the audience]."