The march continues
Iowa continues state-wide walkouts, marches in protest of anti-LGBTQ legislation
Vivian Wu, Web/Print/Multimedia Editor; Videographer
March 5, 2023
Protests, marches, and walkouts continue across Iowa as anti-LGBTQ legislation makes its way to the Capitol.
So far 33 anti-LGBTQ laws have been introduced at the Iowa Capitol. Among these are House File 9 and Senate File 83, which target trans students.
"House File 9 forcibly outs transgender students if faculty or staff learn that that student is trans," senior Jemma Bullock (she/they)said.
Bullock is an Ankeny representative for Iowa Queer Student Alliance (Iowa QSA) and a member of Iowa WTF, who organized the walkout at Ankeny High School on March 1. 
"School should be a place where people can be free, where they can feel safe, where they can feel loved. We don't need the government spoiling our lives," sophomore Brendan Perry (he/him), he/him. "The reason why I'm here is to speak up against those homophobic parents, teachers, and everyone who oppresses the equal rights for gays, for lesbians, and everyone in the LGBTQ community." 
Students voiced their frustration with the school district at the walkout.
"I'm sick of living in a school district that does not fend for its queer kids," senior J Walters (he/they) said. 
Southview freshman River Phillips (they/them) provides some testimony about their path of coming out as nonbinary.
"Two years ago I came out as nonbinary. And for two years, in Ankeny, I have been bullied almost every single day," Southview freshman River  Phillips (they/them) said. "People I've never even met talked about me. They yelled my deadname. They yelled things. I've been pushed into lockers… But I am still here, and I am still standing strong. I will continue to be here for the rest of my life." 
Junior Jason Dennis (he/him) expressed the need for a safe place for the most vulnerable.
"School is a safe haven for a lot of students. It's a place to be yourself and a place for you to grow," Dennis said. "These bills are going to put an end to that for the most vulnerable kids who have nowhere else to go, who need school as a place to express themselves… And if those kids get abused, the blood is going to be on Kim Reynolds' hands, and every other lawmaker that passes these bills. We need to protect our students. We need to protect ourselves."
Senate File 83 seeks to ban the mention of gender identity from grades K-8. Other bills prohibit mention of LGBTQ topics.
"House File 8 specifically is the 'Don't Say Gay' style of legislation which bans any mention of gender identity or sexual orientation from grades kindergarten through third grade," Bullock said. "Senate File 159 is the 'Don't Say Gay' bill, 'Don't Say Trans' bill combined into one that would ban those from being mentioned from kindergarten through eight grade instead of just banning them at the lower grades." 
House File 182 restricts certain phrases being discussed on college campuses. 
"They created a list of 51 phrases that the colleges would have to report if they are being taught in classes," Bullock said. "This includes gender equity, racial equity, Critical Race Theory (CRT) is among that, gender identity, sexuality, sexual orientation, and all these different things."
Together, Bullock worked with Emmaline Mitchell of the Iowa QSA to organize the state-wide walkouts.
"The fact that… last Monday [March 1] we just had this idea like, 'What if we did this?' And then over 10,000 students over the state of Iowa walked out of their schools is absolutely insane," Bullock said. "I'm very proud of both Ankeny High School and Southview."
Students who attended the March 1 walkout spoke on the importance of acceptance.
"I did this walkout because it's very important to me," senior Robyn Lewellin said. "I've tried to come out with friends and family and haven't really been supported, so I've always had to hide it. I took this walkout as an opportunity to tell everyone that I am probably LGBTQ and these bills that Iowa is trying to pass are not okay and will destroy every LGBTQ kids' future."
Junior Corinne Hyman (she/they) explains that the bills would be in violation of basic human rights.
"You're taking away rights from people and that's not okay," Corrine Hyman said.  "A walkout is one way for you to express that."
Some attending the March 1 walkout were not part of the LGBTQ community themselves, but were there to provide support for their friends.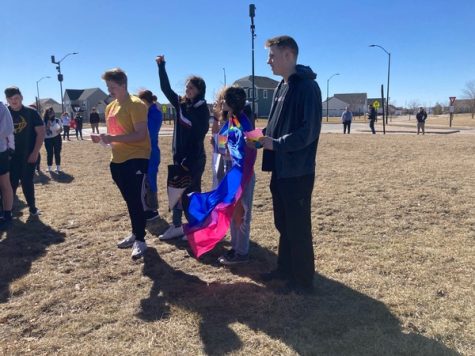 "Although I'm not a part of the community, I'm still a huge ally," senior Annika Dagel (she/her) said. "I think it's super dumb what the legislation is doing to all of them."
Students chose not to join the walkout for a number of reasons.
Junior Eli Miller (he/him) was sick the day of the walkout, but stated he would have attended. The most prevalent reason for not attending the walkout seemed to be a priority over classes.
"I had AP Stats and I didn't need to skip that class because I have a test tomorrow," junior Carter Evans (he/him) said. 
Some students who did not attend seemed to be indifferent about the walkout and its movement. Miller stated that it was for a good cause.
 "[I think the walkout had] good intentions, but I feel like it could've been executed a little bit better," Evans said. "All they did was stand in place for the entire hour, and it doesn't really feel like it's raising attention among the people who need to see it, which are the voters."
Evans says he wishes the protestors had done more.
"It just kind of felt less like a protest and more like, 'we're not happy with this, but we're not going to do anything'," Evans said. 
Iowa organizations such as One Iowa, Iowa QSA, and Iowa WTF have more projects planned in the near future. One Iowa held a rally at the Capitol steps on March 5 with Iowa QSA and Iowa WTF speaking at the event. Thousands showed their support of the LGBTQ community, while voicing disappointment in politicians and the discriminatory legislation coming down the pipeline. 
Another rally is scheduled by the Iowa QSA for March 8 at the Iowa Capitol. 
Bullock declared the rallies are intended to "make sure that legislators hear us and hear that we are unhappy." 
Other projects include a rally in Iowa City and a queer pride photoshoot in Des Moines at the end of March.
"Students all over central Iowa can come to a studio and just have fun and take pictures with their friends," Bullock said. "It'll be with professional photographers in an amazing setting… Basically just showing off our pride since we can't express it at school."
For Bullock, this walkout was only the beginning of the movement and the march will continue.
"If you think this is just going to stop here and that nothing is changing, you're going to be wrong," Bullock said. "This is getting national attention already. This has spread throughout all of Iowa, and things will change."