Just speechy
An inside look at AHS's oratorically gifted teams
Although the Ankeny football field has been silent and frosted over for many months now, the cross-country runner's shoes are shoved to the back of the closet, and the marching band's snare drums are buried deep in the band room, it is officially speech season.
Ankeny High School offers two types of speech, large group and individual speech.
 "Large group speech is essentially small group acting," chemistry teacher and large group speech coach Caleb Grulke said. "There a whole bunch of possible categories where groups from two-15 could put on some sort of performance. There's everything from mime to one-act play, radio broadcasting, TV broadcasting, ensemble acting, and musical theater," Grukle said.
Individual speech shares many similarities with large group speech.
"It's actually a combination of speaking and dramatic acting. People can sign up for acting, improv, or they can write a speech for an original oratory,"  English teacher and individual speech coach Luke Schut said. "You can also read poetry or prose."
Group speech takes place in December and January, and individual takes place throughout February and March. Because the two take place during different times of the year, students are able to participate in both categories if they choose to.
"For individual, I participated in storytelling and individual improvisation," junior Evie Neller said. "I participated in group improvisation for group speech."
In group improvisation a group of actors chooses three random scene prompts, and they then have to create a scene on the spot from their prompt. The scenes, when finished, are meant to be a performance and can be quite entertaining.
"I was in a group of four… and we did a road trip. I was a dad, and Evie was my wife," sophomore Jett Tyler explained. "At the end, we decided 'Oh no, we forgot a kid at home,' and that's how we finished it [the improv performance]."
The possibilities for improv scenes are endless, but the possibilities do not stop there.
"…Basically anything anybody is interested in doing performance-wise, there's probably a category for them," Grulke said.
And after preparing an act for a few weeks, it is time for districts, the first round of competitions.
"When it's your time to perform, you go into a classroom and you do your thing," junior Kayla Pocernich said. "There's also a rating you get. A one is the highest. A two is the second highest, and  a three is the lowest."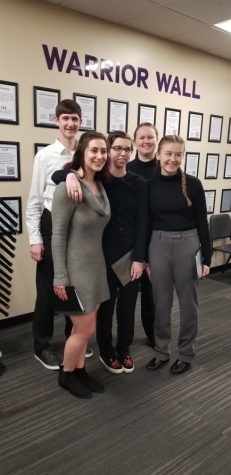 Depending on the score received, teams could advance to the state competition. If the state competition goes well, judges could nominate a team to represent his/her/their district at the all-state level.
Some of the performers from Ankeny have had success in past competitions.
With all of the pressure to perform well at these competitions, it may sound like many may be dreading competition times. But that turns out to not be the case.
"Competition for me is a really fun and stressful experience, but in a good way," Neller said. "The entire speech environment is a great place to be, and you're surrounded with kind individuals who all want the best for everyone." 
Senior J Walters holds a similar sentiment.
"I look forward to going to speech competitions because of all the people there," Walters said. "They're wonderful. It's a wonderful community."
Walters is among many of the performers from Ankeny High School to receive one ratings at districts last week. sophomore Evan Heugel,  juniors Evie Neller and Kayla Pocernich, and senior Andrew Reyna received one ratings in various events, such as solo musical theater, storytelling, spontaneous speaking, and after dinner speaking. They will all be moving on to compete at the state competition this Saturday, March 11. 
But despite all of our student's successes at speech, this activity is still not that well known amongst Ankeny High School's student body. 
"There's a lot of overlapping activities. It's a busy season," Grulke said.
Another possible cause is the a lack of advertising and publicity.
"If we were to put up more posters, send more announcements, or maybe have a social media account, we'd get more people involved," Neller said.
But most seem to agree on one specific theory.
"I think it's because people are confused about the name," Tyler said.
And many others agree with this.
"People think speech and they think they have to talk in front of a large group of people, but it's not really that," Pocernich said.
Even Schut stated that he believes this is the main issue.
"I think the name speech doesn't convey that there's a lot of drama, acting, and reading to it," Schut said. "It sounds like you're giving speeches."
When in reality, speech offers more than just public speaking.
"It's actually just having fun with your friends and becoming a better actor," Tyler said.
Some members pointed out the ways that speech has helped them improve their acting.
"Through speech, you also might even notice you'll become more confident and outgoing, and ease any previous fears of public speaking," Neller said.
Despite speech's close-knit community and the benefits, a few members have dreams for the future of the Ankeny High School speech teams.
"My hope is that Ankeny and other arts programs in Ankeny get recognized for what they are, and get the same amount of recognition as other sports," Walters said. "I'm hoping for more people to come and turn it into a full community. I'm just hoping it gives people the space where they can be themselves."
*The next competition is the individual speech's state competition at Ames High School this Saturday, March 11.