Know the Opponent: Prairie Hawks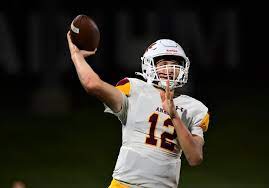 The Ankeny Hawks take on the Cedar Rapids Prairie Hawks in a quarterfinal matchup with a trip to the dome at stake. Let's take a deeper look into what Prairie does well and players that the Hawks need to limit.
Style of play: Prairie has one of the most dominant rushing attacks in 5A. They average 280.3 rushing yards per game (second in Class 5A) and they do this by dominating the trenches. They will stack the line with eight people at times and run the ball down a team's defense. The Prairie Hawks dominate the time of possession in every single game which results in lower scoring games and tired defenses. 
Players to watch:
Makelle Taylor (#26) Halfback: Prairie has always been a dominant run team since the beginning of head coach Mark Bliss's tenure with Prairie. Every year they seem to have a new running back that puts up some phenomenal numbers, and this year that running back is Makelle Taylor. Taylor has rushed for 1130 yards (top 5 in 5A) and 15 touchdowns (top 5 in 5A).  His most notable performance was against Southeast Polk, who has a top-three rushing defense. Taylor put up 132 rushing yards and two rushing TDs against the Rams who have a top-five rushing defense.
Brandon Vlcko (#17) Quarterback: Brandon Vlcko was not supposed to be the starter this season until some suspensions caused a change in the depth chart for Prairie. Vlcko exceeded expectations wildly leading Prairie to a 3-1 record in the first four games of the season in which Prairie did not have seven of their starters. Since then he has taken over the Prairie offense. Vlcko has been nothing short of exceptional rushing for 797 rushing yards and 14 rushing touchdowns which ranks in the top three among quarterbacks in 5A. He can make plays in the passing game, passing for 1310 yards and nine TDs. 
Position Group Grades:
Quarterback

B –

Solid QB that wins games, but Vlcko cannot get into a shootout.

Starter: Brandon Vlcko (#17)

Running Back Core

A –

Very strong RB core that can dominate the opposing defenses they play.

Starter: Makelle Taylor (#26)

Receiving Core

B+ –

They have playmakers everywhere on offense, slot, wide, tight end, you name it. But they earn a B+ because they have not had a breakout game yet. That being said, be wary of them.

Starters: Elijah Ward (#1), Gabe Burkle (#87), Lonny Melvin (#7), Jake Walter (#5).

Offensive Line

B+ –

To have a good running attack you have to have a good offensive line. They did lose their senior captain Evan Williams due to injury, but they still are one of the better lines in the state. 

Carter Dawley (#65), Keegan Olerich (#53), Cael DeFlieger (#79), Ethan Kirk (#78) Julian Fierro (#74).

Defensive Line

C+ –

They struggle filling gaps and making tackles. They usually make one big tackle for loss, but they cannot do it consistently. 

Dylan Beck (#15), Moses Each (#44), Muhammad Al-Suleiman (#64), Storm Beatty (#58), Carter Dawley (#65).

Linebackers

C –

Likewise to their defensive line, they make big plays but cannot do it consistently. They also tend to give up big plays. 

Maguire Jones (#38), Nic Powell (#42), Brayden Johnson (#25).

Secondary

C –

Probably their weakest position group. They jump on play-action a lot and lack speed over top. 

RJ Wade (#13), Blaine Stepanek (#8), Braxton Martin (#2), Landon Ruby (#24), Caden Striegel (#21), Amadi Kalilwa (#9).
Schedule (Bold: Best Win)
Prairie 27-21 Pleasant Valley
Prairie 28-14 Dubuque Senior
Cedar Falls 24-21 Prairie
Prairie 54-20 Bettendorf
Prairie 1-0 Ottumwa (Forfeit)
Prairie 55-7 Waterloo West
Southeast Polk 21-20 Prairie
Prairie 50-14 Iowa City West
Prairie 36-20 Linn-Mar
Prairie 24-6 Bettendorf
(Record: 8-2)