Hawkette volleyball season recap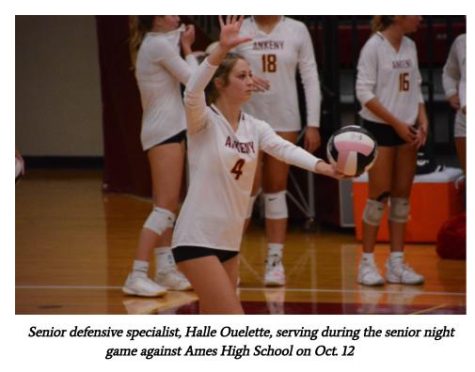 The Hawkettes placed first in the Central Iowa Metro League-Iowa conference. The CIML-Iowa conference consisted of Ankeny, Ankeny Centennial, Waukee Northwest, Ames, Marshalltown, Mason City, and Fort Dodge. The Hawkettes won the conference with a record of five wins and one loss. 
"We all have so much fun together and our bond is what makes this team so special,"  senior and defensive specialist Halle Ouelette said.
Travelling was not something out of the ordinary for this team. Out of the 46 games played by the Hawkettes, only five of them were home appearances. They traveled all over the state from Dallas-Center Grimes to Fort Dodge, Valley to Iowa City West, Boone to Bettendorf, and finally, the U.S. Cellular Center for the Iowa High School Girls State Volley Tournament.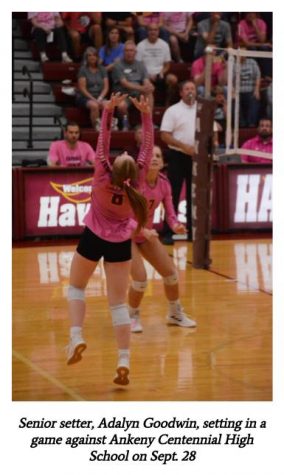 "Our love for each other and our bonding doesn't stop after the game is over. Everybody plays for the person next to them," senior and setter Adalyn Goodwin said.
Throughout the entire season, the Hawkette Volleyball team was dominant. They finished their season with an overall record of 40 wins with only six losses. Their success in the regular season placed them in a good position to return to the state championship in 2021. Sailing past Waukee High School and Iowa City High School, both in three straight sets, the Hawkettes went on their way back to the state tournament. The Hawkettes defeated Urbandale High School in the first round of the state tournament in five thrilling sets.
"Having a good connection and friendship with the people you're on the court with impacts the game so much more than people realize," senior and defensive specialist Addy Carter said.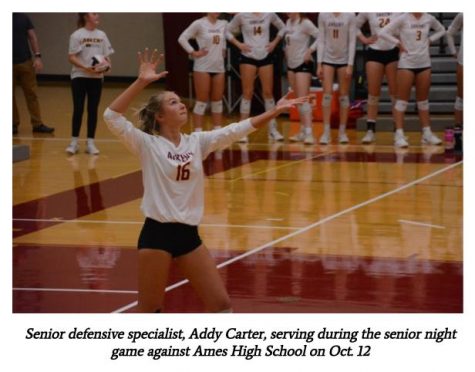 On Nov. 3, the Hawkette Volleyball team's season concluded. The Pleasant Valley Spartans challenged the Hawkettes for three sets before defeating them in the fourth set. The Hawkettes ended their season placing third in the state with six All-Conference nominees and three All-State nominees.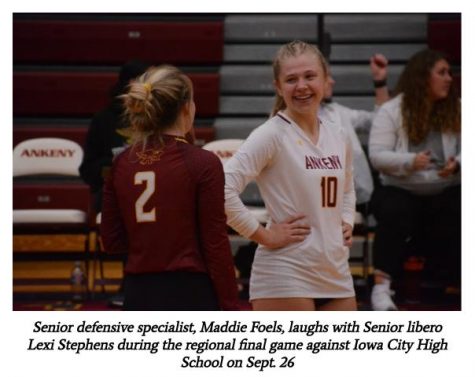 "We've been playing together since we were little and always have each other's backs," senior and defensive specialist Maddie Foels said. "We definitely have a strong and close friendship!"
The Central Iowa Metro Leauge-Iowa selected three Hawkettes for First Team All-Conference: seniors Ava Reynolds and Lexi Stephens, and sophomore Aowyn Schrader. Seniors Adalyn Goodwin and Halle Ouellete were selected Second Team All-Conference, and senior Maddie Foels was awarded All-Conference Honorable Mention.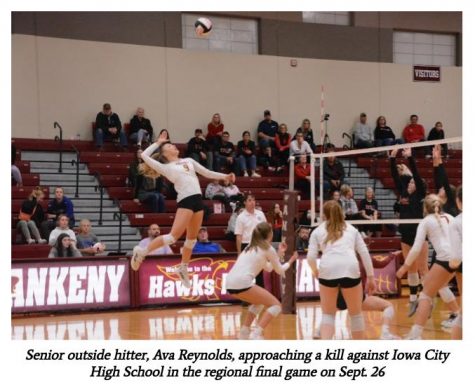 "All of the seniors have been playing together for so many years now and we love making memories together and getting to spend so much time with each other," senior and outside hitter Ava Reynolds said.
The Hawkettes were also awarded three All-State nominations. Senior outside and right-side hitter, Reynolds was selected for the First Team All-State nomination. Reynolds concluded her season with 435 kills, 28 blocks, and 228 digs. All-State Honorable Mentions were given to senior libero, Lexi Stephens, and sophomore middle and outside hitter, Aowyn Schrader. Stephens concluded her season leading the team in digs with 460 on the season and a serving percentage of 92.3 percent. Schrader ended her season with 310 kills and 48 blocks.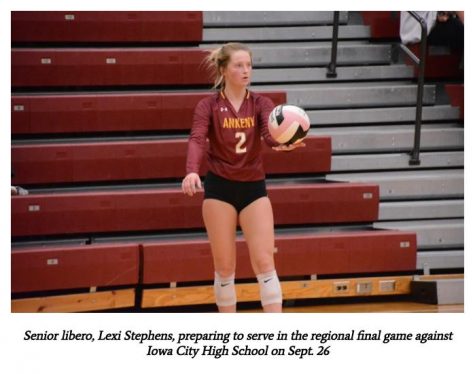 "It's sad to see the season end, but I am proud of everything that we have accomplished. I wouldn't have been named First Team All-Conference and All-State Honorable Mention without my teammates. They pushed me to be my best," senior and libero Lexi Stephens said.