Youth in crisis
How students can stay mentally healthy and balanced during demanding times
Vivian Wu, Web/Print/Multimedia Editor; Videographer
January 13, 2022
Homework, school, and other activities, worldly problems, personal problems – these are issues that all students face. With so much going on in teens' lives, it can be difficult to find balance through it all.  
"Overall, I would [say] my mental health [is] pretty bad," sophomore Corinne Hyman said. "Mostly school causes stress – things like long assignments and tedious homework. Sometimes talking to people, in general, can make me stressed if I don't like them."
For Hyman, meditating helps relieve her daily stress.
"I meditate a lot, it makes everyday life less anxious for me," she said.
Going through a pandemic is not helping to improve students' mental health either. 
"The pandemic has worsened my mental health mostly socially, but I was also left alone with my thoughts… Just thinking about me and my thoughts definitely had an impact," Hyman said. 
 Almost two million children ages three-17 in the U.S. are diagnosed with depression, reports the Center for Disease Control (CDC). Even larger is the reported number of children in the U.S. with anxiety, coming around at 4.4 million children ages three-17, the CDC reported. In order to try and combat the daily stress in students' lives, school counselor Kelly Andrews has some tips for students. 
"We talk a lot about healthy coping skills. What can our students do to be their healthiest, whole self?" Andrews said.  "[That] looks different for every student. However, we know for a fact that unplugging, turning off phones, is a huge, huge benefit." 
This may not be news that every teen wants to hear, but especially after coming out of a pandemic, Andrews states that this tip is extremely important. 
"I really think that this post-COVID culture has been really hard on everyone, but especially our teens who are so plugged in and so aware of everything that's happening, not only in our town and our school and our district but worldwide," Andrews said. 
It is no lie that the COVID-19 pandemic has impacted the way people now interact.
"I definitely spend more time online now [than before the pandemic], but I did spend a lot of time online before," Hyman said. "I guess I'm just more involved now." 
This includes talking to people online more often and playing more video games, she said. 
Physical education (PE) and PEOPEL PE (adaptive PE) teacher Ashley McCoy has also noticed how hard COVID has affected her students. 
"I also worked remote for an entire year, so [it] was really hard to build meaningful and thoughtful relationships with students," Coy said. "There are a lot of people who have missed out on some amazing milestones in their lives due to COVID, like graduation or joining clubs/teams/activities, or even a senior season, so I know that had a really big impact on students' mental health the last few years." 
The effect that COVID had on students can be largely contributed to the lack of social interaction. 
"The lack of social interaction [during quarantine] negatively impacted my mental health… I just sat there and did jigsaw puzzles," sophomore Mallory Jordan said.
Senior Jason Wright also saw a decrease in mental health with quarantine.
"COVID did negatively hurt my mental health," Wright said. "Part of that is being cooped up a lot, and limiting social interactions is definitely a big part of that. You don't have a lot of options when you're in a pandemic." 
Andrews agrees that social interaction is important for students. 
"I think that social interaction is important, and a lot of our students lost that [from the pandemic]," Andrews said. 
For this, Andrews advises getting more involved. 
"We know that having something that you're involved in… whether that's a club, a sport, an extracurricular … is beneficial for students," Andrews said. 
Along with those, volunteering and picking up new hobbies through clubs are great ways to stay involved. 
Another way students can improve their mental health is to participate in physical activity. Engaging in physical activity has been proven to reduce anxiety and depression. 
"These improvements in mood are proposed to be caused by exercise-induced increase in blood circulation to the brain and by an influence on the hypothalamic-pituitary-adrenal (HPA) axis and thus, on the physiologic reactivity to stress," McCoy said.
These physiologic reactions are caused by the influence of the HPA on various regions of the brain. 
 "[These regions include] the limbic system, which controls motivation and mood; the amygdala, which generates fear in response to stress; and the hippocampus, which plays an important part in memory formation as well as in mood and motivation," McCoy said. 
Additional benefits of exercise include improved mood, improved sleep, increased energy, and reduced levels of cholesterol. 
"[Exercise] keeps a crazy number of physical health problems at bay that can negatively impact mental health as well," McCoy said. 
Students have noticed that exercise helps improve their mental health.
"I feel like exercise does improve my mental health because whenever I exercise, I feel like my brain has kind of drained out and I'm able to focus more on what I need to do," sophomore Samara Feldhacker said. "I'm able to sleep because I'm tired from exercising… it allows me to get more sleep and feel more awake and more conscious and happier." 
There are other small things students can do to keep their mental health in check, like journaling or limiting exposure to the news. However, this looks different for everyone. 
"Sitting and journaling might not be beneficial for one student, but for another, that brain dump might be the best thing in the world," Andrews said. "[Helping] students find healthy coping skills when they're feeling overwhelmed and empty, how to recharge and refuel, [that] looks different for everyone." 
However, the most important step to improving mental health is reaching out and asking for help. Building a support network of friends and family, and above all else, reaching out to a mental health professional can get a teen on the right track to improving their mental health. Ankeny High School has its own counselors students can reach out to. 
"Starting with your counselor is the best place to start because we are so connected to resources and we can listen in confidentiality…" Andrews said. "We can help students. We have the tools necessary to help students who are struggling with their mental health."
 Ankeny High School also has connections to outside therapy resources for its students. 
 Employee & Family Resources (EFR) is free counseling provided by the school district. Students can receive free mental health counseling for the first six sessions. AHS also has a partnership with Lifeworks and offers free counseling in the building for all students, Andrews said.
"It's okay to ask for help, and there are so many resources out there for students who are struggling…" Andrews said. "This isn't anything they've done to themselves… This is not something they have to live with forever. [There] is hope, their mental health can improve, [and] we [the counselors at AHS] have the tools and resources necessary to help them."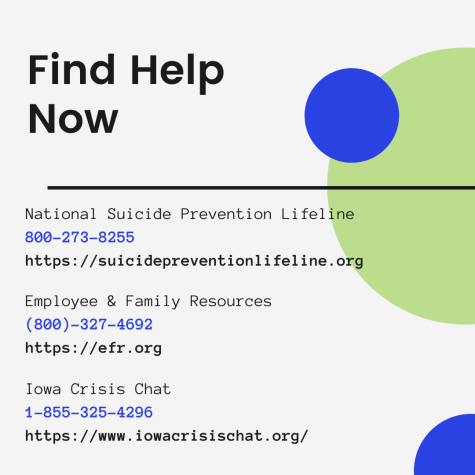 AHS's own  *Mental Health Awareness Club meets every Friday before school in room 2417 to help spread awareness of mental health and safety, at school and within the community.