The road to state: AHS seniors help take girls' tennis to new heights
Seniors Anna Schmitz and Tori Johnson will take to the Iowa girls' state tennis tournament this Friday, May 27 in a history-making move for Ankeny High School (AHS)
Since the split between AHS and Ankeny Centennial High School (ACHS) in 2013, the AHS girls' tennis team has never had a doubles team qualify for state.
In 2021, '21 AHS graduate Megan Sommerfeld became the first in AHS history since the split to qualify for girls' state singles. Now, following in history-making footsteps are seniors Anna Schmitz and Tori Johnson, as they became the first doubles team at AHS since 2013 to qualify for state tennis.
On May 11, Schmitz and Johnson, along with freshman Kira Smith, secured their place among the Iowa state tennis qualifiers.
For this pair of doubles partners, finding out they made it to the state championship was "like a movie," Johnson said. "It feels amazing and it's kind of unbelievable because I wasn't even planning on going out for tennis last year, so it's been pretty crazy."
Both Schmitz and Johnson have worked hard to get to where they are now, and after reaching this milestone, they both reflected on their growth as players.
"It feels pretty cool, especially being a senior," Schmitz added. "I didn't really think that's somewhere I could have gotten within the past season, so it felt pretty awesome."
Johnson in particular noted the progress she's made since last year when she first joined the team as a junior.
"I saw the kind of progress I was making in that one season, and I wanted to see where that could take me if I kept pushing," Johnson said. "So I worked a lot this summer. [I was] going to clinics and having lessons and getting better there, [while] also playing in tournaments – which was a little rough at first. It helped me this season because it made [tennis] even more fun."
Schmitz made a testament to the hard work of the entire AHS team as well as her own improvement.
"I feel like nobody really understands how much work this team has put in," Schmitz said. "Even before the season started, we had girls working in the summer and then throughout the winter and in practice."
And thanks to all that hard work, not only have Schmitz and Johnson made a ground-breaking accomplishment this year, but the AHS girls' tennis team has found itself making numerous historical feats.
Coach Steve Smith spoke on these accomplishments.
"We've had a lot of historical moments this year," Smith said. "[We went from] winning five matches in seven years against Centennial [to] winning twice as many matches in one meet. [This year] being the first time we've ever beaten Centennial [was] a big moment for our school."
Smith also recalled the seeding meeting for the state tournament, when it was revealed that only four schools had both singles and doubles champions.
"Dowling, Valley, Cedar Falls, and Ankeny. Those are the three top teams in the state – and Ankeny," Smith said. "That was a really big moment; That was when I really started to say 'Wow we've done a lot this year,' and I'm so proud of that team."
Schmitz also commented on the pride she feels when looking at all of the team's accomplishments this season.
"It's honestly really crazy because when you think about it – there have been so many things that we have accomplished," Schmitz said. "I just feel like it's something super special and not very many people will get the opportunity to do so much in one season, in any sport – so I feel like as a senior, leaving that legacy will be super special."
As noted, both players can feel the impact of this season and see the culture changing around the sport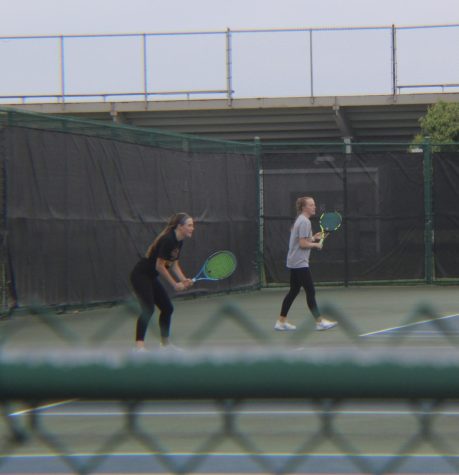 at AHS.
"I feel like before this year, and even last year kind of, everyone kind of saw tennis as more of a club and a hobby than a sport," Schmitz said. "[It couldn't be] compared to all the levels of [sports at AHS], so I feel like we've kind of put it on the map."
Smith spoke on this change as well, while also noting the aspects of consistency throughout the years and giving credit to the environment he inherited from the previous girl's tennis coach, Katie Owens.
"One of the things I give a lot of credit to Coach Owens [for], is that she had an environment that people really enjoyed playing tennis [in] and so I wanted to keep that." Smith said. "And so one of my main goals was to make sure last year we had that fun aspect, [and] we learned how to play a sport that you could play your entire life; I wanted to keep that."
Smith also spoke on what he hopes to contribute to the program.
"I wanted to take [the program] to that next level, where we went from just being kind of an activity to being a sport. And so, we pushed our team to really give that maximum effort that you would in that kind of environment," Smith said. "And as a result of that, a lot of people put in a lot of time, a lot of effort, worked on their games, and got really good in tennis. My hope is that that changes the culture from an activity to a sport, [and] now, this year, the focus is on excellence in a sport."
Since last year, both Schmitz and Johnson have taken on a leadership-like position among the rest of the team. They spoke on what it's been like to be a role model for the other players, as well as the team-like environment they've experienced.
"[The team] was a different atmosphere than I had experienced before," said Johnson. "It was just awesome how welcoming and encouraging everyone was."
Johnson also added that she feels like a leader "maturity-wise" to the younger players.
"I'm kind of showing them how to treat each other to leave the program the way I found it, which is compassion and kindness and all that good stuff that really drew me to keep playing tennis," Johnson said.
Schmitz, on the other hand, feels like she takes a different approach to being a team leader.
"I'm not super serious a lot. I feel like working hard in practices [while] also keeping the team morale high when we're not playing, and making it a fun environment has been kind of my role," Schmitz said. "I really like to make people feel involved. I feel like making everyone feel involved and welcome [helps] keep it fun."
Both of the state-bound players are working hard in preparation for the meet. They have without a doubt come a long way from where they started, as Smith noted.
"As doubles partners, it's been really fun to see how they've just melded since the middle of the season when they started playing together," Smith said. "They both have their own individual strengths and they map up really well together, so being able to put those complementary skills together has been really fun."
Smith also reflected on his hopes for the meet, and for both of the players.
"When you play in the state tournament, you're playing with the best players in the state, so my goals are to prepare them to the best of their abilities – to play their best against the best," Smith said. "Whether they win or lose, that part is not as important to me, what I want them to do is be able to play their best, and for them to really enjoy the moment."
Schmitz and Johnson will be competing in the girl's state tennis meet at Waukee Northwest High School on Friday, May 27. Both players plan to continue playing tennis in the future, with Johnson going on to play for Wartburg College next spring.
"It's a big, big deal to be able to even be in the state tournament, so sometimes we get lost and don't even enjoy the moment," Smith said. "So I'm hoping that I can prepare them so that they can play their best, but [also so that] they really enjoy the moment and soak it up because it's a great experience."