Dr. Daniel Johnson takes on Ankeny High School
It feels like electricity is surging throughout the school. Everyone is excited for the homecoming game on Friday. As you walk into the school you see someone in the distance, welcoming kids into the building, giving high-fives, and taking selfies with them. As you get closer, you realize that it's your principal, Dr. Daniel Johnson.
Dr. Johnson was born on September 2, 1969, in Milwaukee Wisconsin. He was raised by a single mother, along with his two younger brothers Mike and Robert. 
"My mother had me when she was 16 and was pregnant with my brother when she walked across the graduation stage," Johnson said.
Johnson is very close with his family. Because of he and his mother being only 16 years apart, he created a close bond with her. He expresses his appreciation towards his mother often. 
"She was intentional in making sure we could take care of ourselves," Johnson said. 
With an absence of a father figure, Johnson had to be a leader for his two younger brothers. However, this did not hinder their close bond. 
"Outside of my wife, my brother Mike is my best friend," Johnson said. 
Growing up, Johnson had a very different childhood than most others. In middle school, he was bussed from his neighborhood school to the south side of town, where he would go to school each day. This lasted from third grade until eighth grade. 
"I was part of this program in Milwaukee that was called Chapter 220, which was the intentional, integration of the schools," Johnson said.
As Johnson was bussed to the south side of town each day, he became more and more hopeful for change. 
"I was intent on not going to school on the south side of Milwaukee, race relations were not the best," Johnson said.
Johnson says that he felt disconnected from his education during the time spent serving in Chapter 220. This led him to have mixed feelings about school.
"I don't like school, but I love learning," Johnson said. 
Johnson may not have had the best grades in middle school, but his state test scores were through the roof. He proved to the district that they were not challenging him enough, and soon later, Johnson found himself attending Washington High School.
"I signed up for computer science, even though I had no interest in the area, but I wanted to go to that school," Johnson said. 
In the short time spent at Washington High School, Johnson met many people who have made a big difference in his life. One of these people was wrestling coach Robert Spicuzza. 
"Coach Spicuzza is the reason why I went into education," Johnson said.
Coach Spicuzza was Johnson's wrestling coach in high school. Johnson speaks very highly of him and the impact that he has made on his life. 
"I remember, at his funeral, I made sure to thank every one of his kids for sharing their dad with us, because we loved him," Johnson said.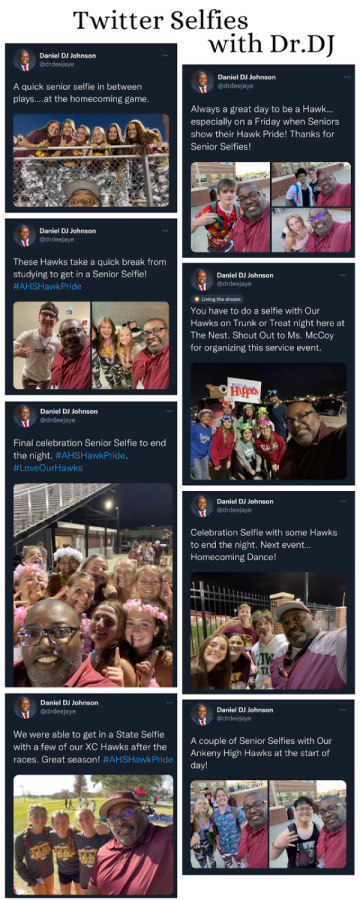 Even though Johnson had a difficult upbringing, he still managed to succeed in graduating high school and college, along with earning his doctorate degree. 
"I don't like school, but I got a doctor degree, go figure," Johnson said.
Since then, Johnson has created a hefty resume. He held many positions such as a coach, school counselor, associate, assistant principal, head principal, and many positions in higher education.
"I had work I had to do at a high school in 2002 to 2022. I was there for 20 years. 6 years as a counselor, 5 years as an assistant principal, and 9 years as the principal," Johnson said. 
During the 2022 school year, Johnson found himself at Ankeny High School, ready to interview for the head principal position.
"I am a mission-oriented person. I do believe in callings. And it was providence that brought me here," Johnson said.
Johnson was not looking for a job when the position opened at Ankeny. However, he expresses how everything fell into place. 
"It feels right with me being here. I'm supposed to be here," Johnson said. 
Johnson has only been at Ankeny High School for a short period of time, but it looks like he is making all the difference. 
"The connections that we make… it's an investment. I think that having Dr.Johnson here, and our admin here, you get a chance to see that again," social studies teacher Patrick Asmussen said.
Johnson attends many events put on by the high school, whether that be athletics, the arts, or clubs.
"He was traveling to cross-country state and he came back to the state championships for cheer. He's being a lot more engaged and being there for our kids, and for our coaches and our staff," AHS associate principal Wade Grinhaug said.
Students are recognizing the changes that have taken place so far throughout this school year. 
"We do live in a world where bad things happen, so some big changes have been happening this year that I think are probably for the better," junior Sydney Howe said. 
Many students have felt Dr. Johnson's presence in his short time so far at AHS, and many of those students express positive feelings towards the new principal. 
"I remember the first time he was gone. He had a meeting, and I went out there. Some of the kids were like 'Hey! Where's Dr. J,'" Grinhaug said.