Show Choir: the pretty, the gritty, and the challenges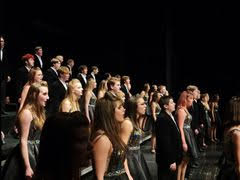 Show choir is one of Ankeny High School's (AHS) longer-running activities and one that comes with a lot of behind-the-scenes time commitments. Despite this, members manage to find joy in show choir and find ways to balance out their activities.
Show choir is the combination of musical numbers accompanied by choreography and costumes. There are three show choirs at AHS: treble clef prep group, Intensity, a mixed junior varsity prep group, Perpetual Motion (PM), and a mixed varsity group, Visual Adrenaline (VA).
Fresh off from competition season, the show choir season will finish with the spring home show in the Ankeny High School Auditorium March 25-27. Because competitions are done, rehearsals have eased up. But during competition season, it can get a little intense.
"It's six hours a week in rehearsal but outside of rehearsal, being a dance captain, I have to continuously work and make sure I'm perfect at the choreography," VA member and senior Carson Doss said. "Along with that we're supposed to come in early to set up risers and stay later to tear down."
But in between setup and teardown, there is a lot more that goes on. During the hours put into rehearsal, the show choirs are doing so many things.
"This year, they learned a song one at a time. The choreography is the first component and simultaneously they're learning vocals, " VA director Ben Walters said. "And for quite a while those two worlds stay separate. As we get a little further in the year, we start to combine those worlds." 
Walters says that later in the year the final aspects are added such as the band and then costumes enter the picture.
With many things going on at once in show choir, many members are also involved in other activities.
"I am also involved in the theater department, speech, color guard, and the music department," Doss said.
Because of this, finding time in between all of this has certainly proved to be a challenge for some members.
"I kind of just cross my fingers and hope it all works out," Doss said. "I feel a lot of pressure to do well every time and always set a good example… When I don't do as well as I think… that affects my view of my self-worth and how I view myself as negatively impacted by not always being able to be 100 percent." 
Doss continues to manage to find happiness and joy in show choir each day and remembers why he is passionate about show choir.
"Connecting with an audience and allowing myself to express emotions through singing and dancing is always something I've found comfort in, [and] along with that [show choir's] such a community that builds each other up," Doss said. "I always feel comfortable and safe in that environment."
PM member and sophomore Chares Heuton feels similarly.
"I enjoy singing and dancing, and also the community that show choir builds and the experience of competitions," Heuton said. "Show choir is a lot of work [but]… I get to spend time with my friends and do an activity I enjoy."
Heuton does have some advice for other show choir members on how to help out when show choir can feel like a burden.
"Try to coordinate activities so you have at least one day a week with free time for yourself," he said.